Why should you donate to Heritage Place?
Heritage Place promotes healthy lifestyles, independence, well-being and quality of life for older adults 55 years of age and older. While our programs and services are partly supported through membership, we rely on donations to keep our programs and services affordable. Your donation will have lasting impact. Please consider making a secure donation today. Start by completing the form to the right.  When you click submit, you will be directed to PayPal. 
More ways to support Heritage Place
We also accept gifts of stock, bequests and other planned giving options through our Front Porch Planning Program. Learn more
Enhance your presence by educating older adults about your products and services by becoming a Corporate Partner. Our partners are an integral part of our programs, event and publications. Learn more
Hoosier Heritage Night, our annual signature fundraiser, celebrates six individuals for their lifetime achievements, accomplishments and contributions to the success of greater Indianapolis. Hoosier Heritage Night is one-of-four annual fundraisers. Our event sponsors receive premium exposure. Learn more
Planned Giving Frequently Asked Questions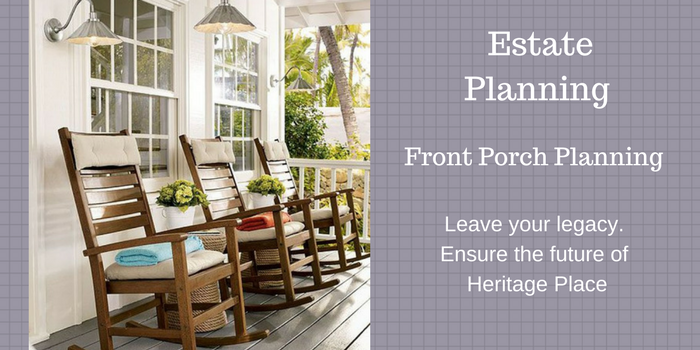 Two of the most commonly used sentences are: 1- I give and bequeath to Heritage place of Indianapolis, Inc. ____ percentage of my assets
Read More
Yes. As a 501©(3) charitable organization, Heritage Place can receive donations through your will.
Read More