Your primary care provider (PCP) is more than just someone to call when you're sick – you PCP is your partner in maintaining and optimizing your health. It's important to take an active role in that partnership.
Scheduling routine checkups is the first step. But how you prepare for your visit can help determine your success in the ongoing management of your health and well-being.
Asking questions about your diagnoses, treatments and medicines can improve the quality, safety and effectiveness of your healthcare.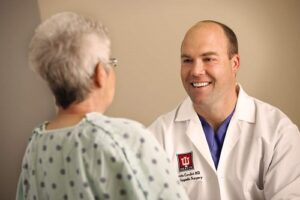 Questions could include:
What is my diagnosis?
What are my treatment options?
What are the benefits of each option?
Will I need a test? What is the test for? What will the results tell me?
What will the medicine you are prescribing do? How do I take it? Are there side effects?
Why do I need surgery? Are there other ways to treat my condition?
Do I need to change my daily routine?
Indiana University Health Plans is a Medicare Advantage organization with a Medicare contract providing health coverage since 1990.