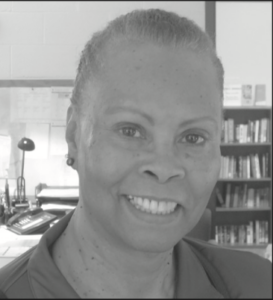 Approximately six years ago, Joanie was invited by her Cousin Debbie to exercise in Colela Bouye's morning Chair Aerobics class. Her first thought was, "Oh, it's so far away… do I really want to get up so early?" But once she dragged herself out of bed and got here, she loved it. Her cousin has since moved to Las Vegas, but Joanie stayed and has been with us ever since.
Prior to her retirement, Joanie worked in the Finance Field for 34 years as a Senior Loan Officer and Manager for Naval Avionics Family Horizons Credit Union. She took a short break from work when her Father grew ill and shared care responsibili- ties with her four sisters. Not long after his passing, she returned to work and worked another 8 years for IPL's credit union. Did you know that she is a Notary Public and would be willing to notarize your documents for a very small fee.
Fitness has always been a part of Joanie's life. Joanie was a certified Jazzercise instructor for 20 years and her husband invested his time in body building. They would rise at 4 am to work out at the local gym. When Joanie retired, she wasn't sure she was going to like staying home. She was used to getting up every day and working out then going to work. So when she joined Heritage Place, she was inspired by Colela's classes. She enjoyed the Chair Aerobics so much that one year ago, Joanie started teaching her own Chair Aerobics class. She is a certified Silver Sneakers, CPR, Stability & Balance instructor and recently added Silver & Fit to her certifications. She now teaches Balance & Stability on Tuesdays, started leading a Walking Group on Thursday mornings and Chair Aerobics on Fridays.
Now that she is retired, Joanie loves having time to do the things she wants to do. In July she celebrated her 49th year of marriage with their family and one daughter. She and her husband enjoy walking their dog Lanny (who is a Lhasa Apso) and have traveled the world and all 50 US states. Of all the places they have traveled (Brazil, Canada, Hawaii) her favorite place was Italy. She said it wasn't the architecture or history that stole her heart, it was the linguini and daily fresh bread – all the great places to eat!
Joanie will tell you, of all the ways she can spend her time in retirement, one of the best ways is participating in programs at Heritage Place. Her own classes are unique. She paces the work outs to match student needs and offers exercises that she knows they can do. She will tell you that Heritage Place is a nice place where you can grow fit, con- nect with others and make lasting friendships.